Functional outdoor furniture
brings the same characteristics you value in indoor tables, chairs and sofas - durability, comfort and style. It also reflects your personal tastes, and can add curb appeal.
Many furniture manufacturers use a combination of materials for their frames and table tops. Each has unique qualities, benefits and drawbacks.In the UK, our summers jump from hot and sunny to torrential showers, meaning rattan furniture has to be weatherproof. Synthetic rattan is able to withstand this kind of weather and won't deteriorate as quickly as natural rattan, giving you the freedom to use your garden furniture whatever the conditions.
Synthetic rattan can also be a lot cheaper than natural rattan and will still look good if you're shopping for a budget. This can help you create a back garden you love without blowing your whole budget.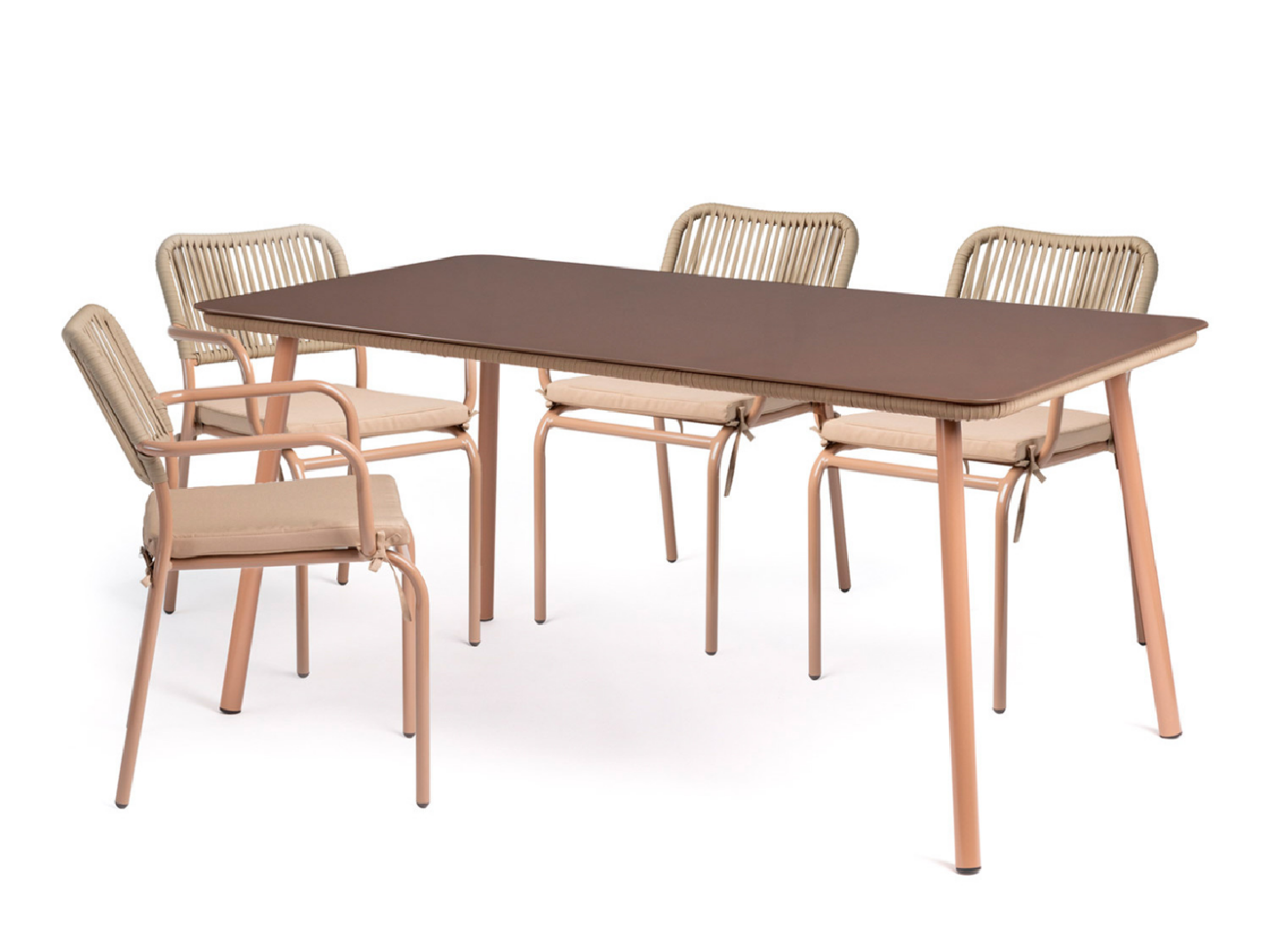 There are two groups of man made fibres: the first group, known as regenerated manmade fibres includes viscose rayon and cellulose acetates. The second, known as synthetic manmade fibres is manufactured through chemical synthesis and consists of polymers including nylons, polyesters, acrylics, and polyolefins. These are derived from fossil fuels, including coal and oil.
Metal
Metal garden furniture is heavy, so it won't easily tip over or blow away in windy conditions. It also holds up well against rain and sunlight. It's often coated to repel moisture and prevent corrosion from salt in the air. It's a popular material for high end modern outdoor furniture like sofa frames and dining table bases. It's also an environmentally responsible choice since it is often made with recycled metals.
Metals, especially steel and wrought iron, can be attractive in the right finish. You can find a range of natural-looking colors that can blend with almost any type of decor. Metal is also a great option for areas that experience dramatic seasonal climate changes because it can withstand temperature shifts. However, constant exposure to sunlight can cause some materials to fade and lose their luster over time. It's best to keep this in mind when choosing outdoor furniture. Certain materials can also crack or break under extreme heat or cold conditions.
Many people prefer to purchase wood-framed furniture because it is a natural, earth-friendly material. It also comes from a sustainable source, unlike some other materials. However, a person must protect wood from environmental conditions to ensure it lasts for a long time. Some of these conditions include warping, discoloration and fading. Wood stains, paints and waxes act as durable sealants for wooden surfaces but can be finicky to apply.
Another natural material for functional outdoor furniture is wicker. These materials are woven together to create chairs and tables that complement any style of decor. They are also lightweight and can be moved around easily. It is best to store these items in a shed or garage during harsh weather.
Other materials
In addition to wood, metal and man-made synthetics, luxury outdoor furniture incorporates a variety of other materials. Some, like wicker and rattan, give a classic country aesthetic, while others are more contemporary in style. Bamboo, some natural grasses and a range of synthetic options such as rattan and high-density polyethylene are durable, lightweight and easy to clean. They are also suited for any climatic conditions and are easy to maintain.
Other materials such as sheepskin are also suitable for outdoor use, but they require regular cleaning and maintenance to retain their look. Often they need to be brought indoors during rainy or snowy weather, or stored during times of extreme heat.